Table of Contents
The Peterbilt 389 is one of the most iconic and popular big rigs on the road. Known for its distinctive styling and customization options, this Class 8 truck offers exceptional performance, comfort, and reliability. In this guide, we'll take an in-depth look at the specs, features, capabilities, and costs of the Peterbilt 389. Whether you're a trucker considering an upgrade or just an enthusiast, read on to learn all about this heavy-duty hauler.
Why is the Peterbilt 389 so popular?
The 389 has been a top seller for Peterbilt for over a decade, and for good reason. This truck offers a winning combination of power, efficiency, comfort, and style. Drivers praise the 389 for its smooth ride, responsive handling, extensive customization options, and spacious, well-appointed cab. The strong PACCAR MX-13 engine provides plenty of muscle while delivering excellent fuel economy. The aerodynamic exterior cuts through the wind, while the sculpted fenders and sloped hood give the 389 an aggressive, masculine look. For owner-operators looking to make a statement, the 389 is hard to beat.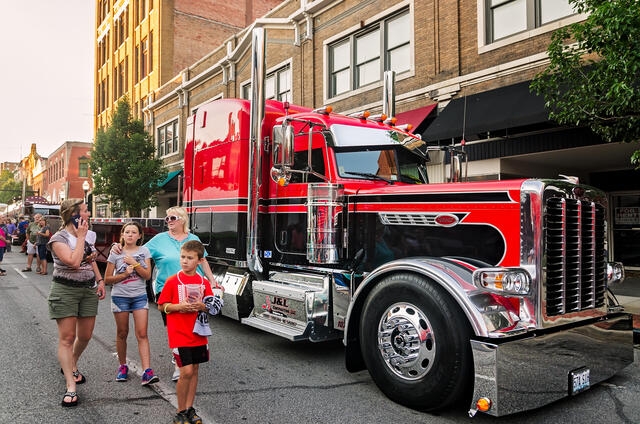 SPECS AT-A-GLANCE
| Spec | Details |
| --- | --- |
| Class | Class 8 |
| Configuration | Conventional |
| BBC | 122″-132″ |
| Engine | PACCAR MX-13, 12.9L |
| Horsepower | 380-515 hp |
| Torque | 1,450-1,850 lb-ft |
| Transmission | Manual, Automated Manual, Automatic |
| Axles | Single or Tandem |
| Wheelbase | 228″-318″ |
| MPG | 7-8 mpg (estimated) |
| GVWR | 80,000 lbs |
INTERIOR FEATURES
The 389 offers spacious, comfortable cabins designed for long hauls. The roomy, flat-floor cabs provide excellent legroom and head clearance. Available amenities include:
Premium seats with lumbar support
Tilt/telescoping steering wheel
SmartNav navigation and entertainment
Heated/cooled seats and storage
Fridge, microwave, and other appliances
Plenty of storage for gear
Room for customization
ENGINE SPECS
The 389 comes equipped with PACCAR's 12.9L MX-13 diesel engine, available from 380 to 515 hp and 1,450 to 1,850 lb-ft of torque. This turbocharged powerplant delivers ample torque for tackling steep grades, along with excellent fuel economy. SCR technology helps reduce NOx emissions. Other engine options are available, including the Cummins X15.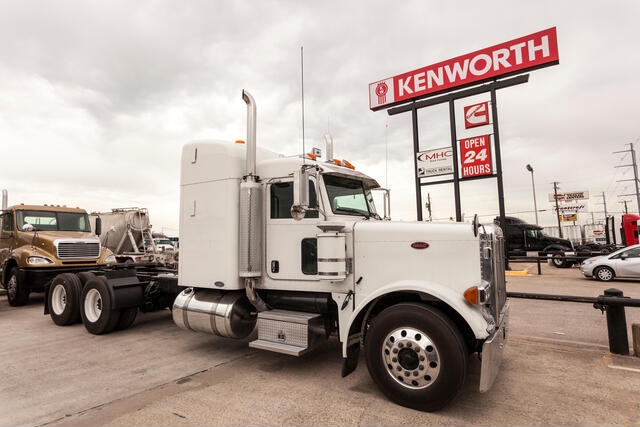 SLEEPER OPTIONS
One of the 389's biggest selling points is its spacious sleeper options, ideal for long-haul truckers. Available sleepers include:
| Sleeper | 56″ mid-roof sleeper |
| --- | --- |
| 40″ flat top sleeper | Compact yet comfortable |
| 70″ high-rise sleeper | Best balance of space and maneuverability |
| 70″ high rise sleeper | Stand up with extra storage |
| 76″ sky rise sleeper | Ultimate big rig luxury |
Sleepers can be customized with premium mattresses, entertainment systems, leather seats, and other upscale amenities.
Related Post: Peterbilt 379
The customizable and still-reliable Peterbilt 389
One of the reasons for the 389's longevity is its versatility. Truckers can customize their rigs with a wide range of options to suit their needs and style. Popular customizations include chrome trim packages, larger sleepers, deck plates, custom paint jobs, leather interiors, wood grain dashes, and more. Yet even with these options, the 389 retains the reliability and efficiency Peterbilt is known for.
The successor to the Peterbilt 389
In 2020, Peterbilt released the next-generation Model 579 to succeed the venerable 389. The 579 has an updated, aerodynamic exterior design along with the latest diesel engines, transmissions, and amenities. However, the 389 remains in production due to its enduring driver appeal and brand recognition. Drivers looking for classic styling, customization, and proven performance continue to opt for the 389.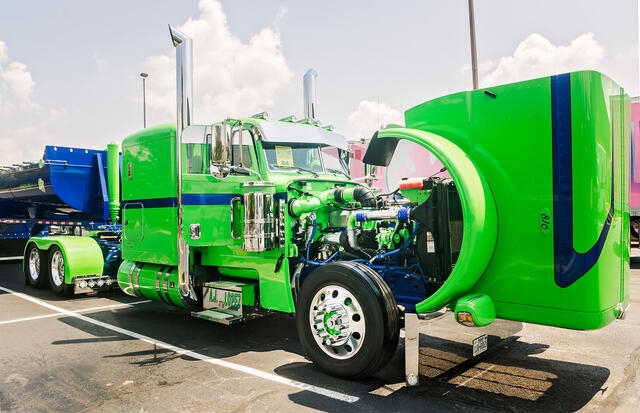 How much does a Peterbilt 389 cost?
The base price for a new Peterbilt 389 typically ranges from $140,000-$180,000. The final cost will depend on cab configuration, engine, transmission, and options. For example, a 2022 389 with a 56" mid-roof sleeper, 500 hp PACCAR MX-13 engine, 18-speed transmission, and some common options can run around $165,000 MSRP. Expect to pay a premium for additional customizations.
Financing options are available, but a 25-40% down payment is typical. Buying a used 389 can reduce upfront costs, with well-maintained used models starting at around $60,000. Operating costs like fuel, maintenance, and insurance also factor in.
| Year Range | Tandem Axle Price | Tri-Axle Price |
| --- | --- | --- |
| 2022-2023 | $165,000-$180,000 | $170,000-$185,000 |
| 2020-2021 | $150,000-$170,000 | $155,000-$175,000 |
| 2017-2019 | $130,000-$150,000 | $135,000-$155,000 |
| 2014-2016 | $100,000-$130,000 | $105,000-$135,000 |
| 2011-2013 | $80,000-$100,000 | $85,000-$105,000 |
| 2008-2010 | $60,000-$80,000 | $65,000-$85,000 |
Prices are approximate MSRP for new 389 models. Customization, mileage, and condition impact used pricing.
FAQs
Q: What is the Peterbilt 389's top speed?
A: The max speed is typically 65-75 mph, limited by factory settings. With the right upgrades, some 389s can reach 85 mph.
Q: How long is the Peterbilt 389?
A: BBC (bumper to back of cab) measurements range from 122" for a day cab to 132" for a large sleeper. The total length of sleepers can reach 75 feet.
Q: How much can a Peterbilt 389 pull?
A: The max GCWR is up to 160,000 lbs for a loaded weight of 80,000 lbs. Real-world towing capability depends on factors like terrain and load distribution.
Q: Is the Peterbilt 389 automated?
A: Not from the factory, but some owners choose to add aftermarket automation features. Driver assist tech like collision warnings come standard.
Q: What is the Peterbilt 389's turning radius?
A: The turning radius is 55.5 feet for most configurations. The wheel cut angle is up to 50 degrees.
Final Thought
With its iconic styling, proven reliability, and customizable options, it's no wonder the Peterbilt 389 remains a top choice for owner-operators and drivers across North America. This Class 8 truck offers an ideal balance of power, efficiency, comfort, and style. While the newer 579 has replaced it in Peterbilt's lineup, the 389 continues production due to popular demand. For truckers who value custom rigs with head-turning looks, the Peterbilt 389 is still the one to beat.