Table of Contents
The Peterbilt 567 has been one of the most popular conventional trucks on the road since its introduction in 2007. Known for its versatility, reliability, and customization options, the 567 delivers everything owner-operators and fleets need in a Class 8 truck.
Overview
As the successor to the iconic Peterbilt 379, the 567 had big shoes to fill. But with its recognizable sloping hood, tall chrome grille, and comfort-focused interior, the 567 quickly became a driver favorite. Now in its third generation, the Peterbilt 567 continues to set the standard for custom-configurable trucks.
This guide will walk through everything you need to know about the 567's performance, specs, features, pricing, and more. Whether you're considering purchasing a new or used 567, or just want to learn about what makes this truck so special, read on for an in-depth look at Peterbilt's most popular model.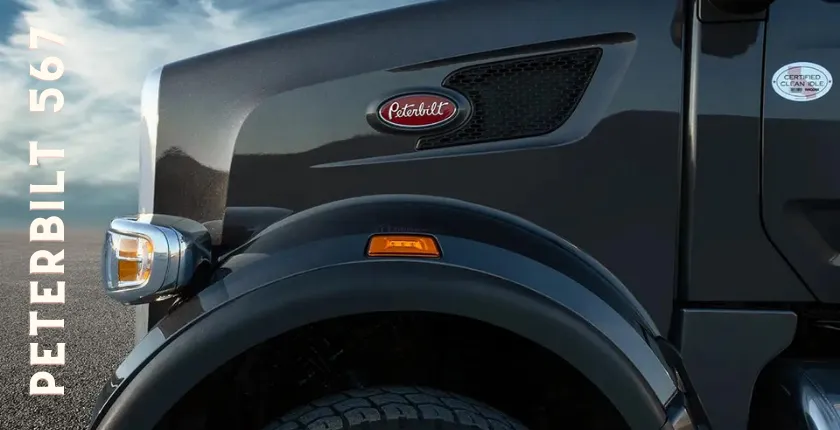 Peterbilt 567 PERFORMANCE AND CAPABILITIES
The Peterbilt 567 delivers everything owner-operators and fleets need in terms of power, efficiency, reliability, and comfort. Available with Cummins or PACCAR engines up to 605 horsepower, the 567 provides plenty of muscle for tackling steep grades and hauling heavy loads.
Its aerodynamic sloped hood, air tabs, and roof fairings make the 567 one of the most fuel-efficient trucks on the road. Drivers report fuel economy in the 8-9 mpg range.
The 567's rugged steel frame and sturdy components can handle years of hard use and hundreds of thousands of miles. Peterbilt trucks are built to last, with the reliability to minimize downtime.
Why is the Peterbilt 567 so popular?
There are several key reasons the Peterbilt 567 continues to be one of the best-selling Class 8 trucks:
Customization – The 567 is one of the most customizable trucks available. From powertrain specs to chrome and paint, interior fabrics, and sleeper options, you can configure your 567 exactly how you want it.
Driver comfort – With spacious, ergonomic cabs and cushy seats, the 567 provides a comfortable environment for long hauls. Plenty of storage space and available sleeper options allow drivers to feel at home.
Fuel efficiency – Aerodynamic styling plus fuel-saving technologies like automated transmissions and Predictive Cruise help maximize mpg.
Reliability – Peterbilt trucks are built with high-quality components and undergo rigorous testing. The 567 has proven its dependability over the years.
Driver appeal – Peterbilts have always been revered by drivers. The 567 carries on its heritage with iconic looks and a best-in-class driving experience.
SPECS AT-A-GLANCE
| Spec | Details |
| --- | --- |
| BBC | 120″- 132″ |
| GVWR | 80,000 lbs |
| Wheelbase options | Up to 242″ |
| Powertrain | PACCAR or Cummins engine, Eaton manual or automated transmission |
| Horsepower | Up to 605 hp |
| Axle options | Tandem or Tridem |
| MPG | 8-9 mpg (estimated) |
| Fuel tank capacity | Up to 160 gallons |
INTERIOR FEATURES
The Peterbilt 567 cab is designed with ergonomics and comfort in mind. Some key features include:
Spacious, upright cab with plenty of head and leg room
Contoured premium seats with lumbar support
Tilt/telescoping steering column
Dash-mounted gear shift for automated transmissions
Plenty of legroom between seats
Abundant storage space and compartments
Optional rear wall cabinets and sleeper options
Hardwood floors and trim packages are available
ENGINE SPECS
The Peterbilt 567 offers powerful and efficient engine options:
PACCAR MX-13 – 12.9L diesel, up to 500 hp, 1,850 lb-ft torque
Cummins X15 – 14.9L diesel, up to 605 hp, 2,050 lb-ft torque
PACCAR MX-11 – 10.8L diesel, up to 430 hp, 1,650 lb-ft torque
All engines meet current EPA emissions standards and provide plenty of muscle for heavy loads.
SLEEPER OPTIONS
To meet the needs of long-haul drivers, the 567 is available with spacious sleeper options:
Sleeper
Details
36″-48″ flat-top sleeper
Basic sleeper with bunk space for 1-2 people
Low profile for maximum maneuverability and weight saving
60″ mid-roof sleeper
Medium-height sleeper with space for 1-2 people
Allows standing upright inside 
More storage than flat-top
70″ high-roof sleeper
Spacious sleeper area with full headroom
Options for larger bed configurations
Increased storage capacity
80″ sky-rise sleeper
Maximum headroom allows walking upright
Feels like a small studio apartment
Typically includes amenities like a microwave, fridge, etc.
Sleepers offer comfortable bunks, storage, climate control, entertainment options, and more. The largest sleepers feel at home with walk-around space.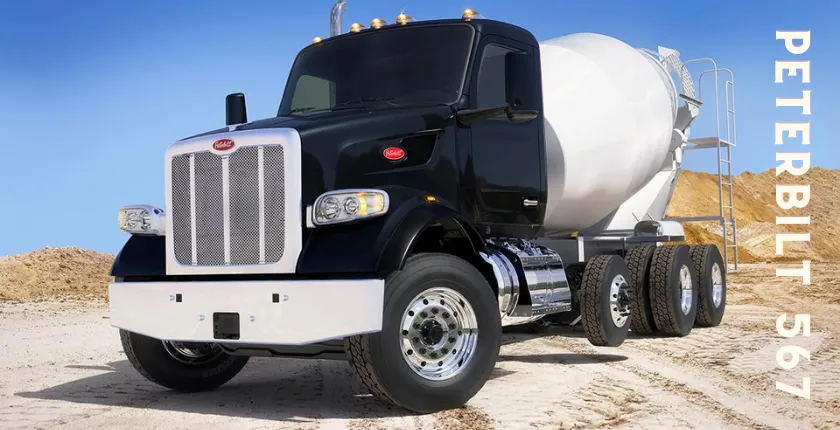 The customizable and still-reliable Peterbilt 567
One of the Peterbilt 567's biggest selling points is the endless customization options. You can tailor your 567 to your precise specifications and preferences. Beyond the standard configurator options, the PACCAR dealership network provides aftermarket customization with cosmetic accessories, chrome, paint jobs, sleepers, upholstery, and more.
Yet even with extensive customization, the 567 retains the reliability and durability Peterbilt trucks are known for. The quality components and manufacturing ensure your customized 567 will deliver mile after mile of dependable performance.
Related Post: Kenworth t800
The successor to the Peterbilt 567
Peterbilt recently unveiled the next generation 567, delivering incremental improvements. Enhancements include a bolder exterior design, more aerodynamic features for improved fuel efficiency, larger windshields for greater visibility, advanced driver assistance technology, and more refined interior details.
However, the essence of the 567 remains – its customizability, driver comfort, reliability, and appeal. Drivers can expect the same Peterbilt quality with modern accents.
How much does a Peterbilt 567 cost?
The base MSRP for a new Peterbilt 567 starts at around $150,000. However, most trucks are optioned out, bringing the average price to $160,000-$180,000.
| Year Range | Tandem Axle Price | Tri-Axle Price |
| --- | --- | --- |
| 2023-2025 (new) | $160,000 – $180,000 | $170,000 – $190,000 |
| 2020-2022 (1-3 years old) | $120,000 – $150,000 | $130,000 – $160,000 |
| 2017-2019 (4-6 years old) | $80,000 – $110,000 | $90,000 – $120,000 |
| 2014-2016 (7-9 years old) | $60,000 – $90,000 | $70,000 – $100,000 |
Exact pricing depends on factors like:
Engine, transmission, and rear axle specs
Wheelbase
Sleeper configuration
Interior options (seats, floors, cabinets, etc.)
Exterior Accessories
Dealer costs for additional customization
Used Peterbilt 567 pricing averages $60,000-$120,000 depending on age, mileage, and condition. Well-maintained used 567s remain attractive options.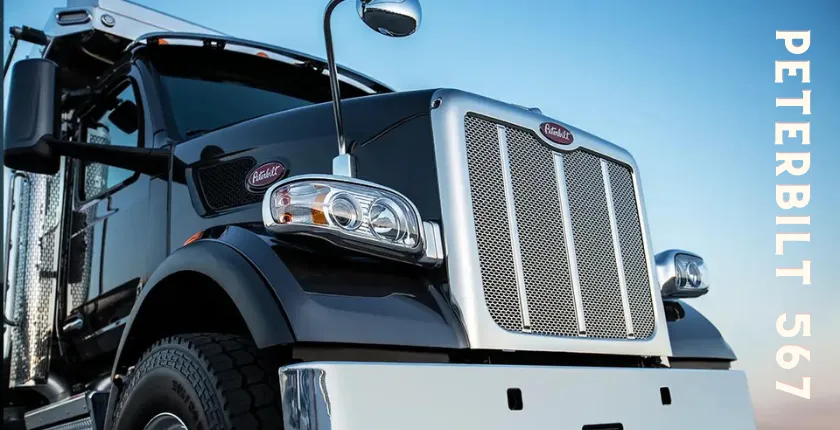 FAQs
Q: What engine options are available for the Peterbilt 567?
A: The 567 offers PACCAR MX-13, PACCAR MX-11, or Cummins X15 diesel engines ranging from 430 hp to 605 hp.
Q: What transmission options come with the Peterbilt 567?
A: Eaton manual transmissions and Eaton automated transmissions are available. Automated options include UltraShift Plus and Fuller Advantage.
Q: What customization options are offered for the Peterbilt 567 interior?
A: Many fabrics, colors, wood trims, floors, and upholstery options allow interior customization. Additional storage space, cabinets, and beds can be added as well.
Q: What fuel efficiency does the Peterbilt 567 get?
A: The aerodynamic 567 achieves 8-9 mpg on average. Actual mpg depends on configuration, driving style, and operating conditions.
Q: What is the max towing capacity of the Peterbilt 567?
A: Properly equipped, the 567 can tow up to 60,000 lbs. The exact rating depends on powertrain specs.
Final Thought
With its iconic style, customizability, comfort, and reliability, the Peterbilt 567 continues to win over owner-operators and fleets. This versatile Class 8 truck offers everything needed to take on demanding jobs and long hauls. If you're in the market for a durable, driver-friendly tractor, the Peterbilt 567 deserves strong consideration.